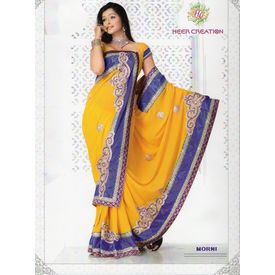 Exclusive Velvet border Sarees - S002SB28LKSK
Exclusive Velvet border Sarees - S002SB28LKSK
INR
S002SB28LKSK
In Stock
5130.0
In Stock
Ships in 3 - 5 Days

Shipping Cost Per Unit

Rs.

150
Description
Exclusive Velvet border with Karachi work on chiffon material sarees with blouse
Color : Yellow
Material: Sixty Gram
Occasion: Festival, Party
Style : Poster Saree
Work : Embroidered work with velvet border
Size- Saree: 6.30 mtr (Standard)
Blouse: Matching Blouse Piece 85 cm included in saree

It is perfect choice for any day function/party.
Check out this lovely, varicolored saree that provides a refreshing amendment from the traditional ones! Featuring a stripe pattern, this saree can build an excellent alternative.

One of the foremost fascinating apparel has hit the market that has most appealing fabric material with an embossing color. The quality of saree causes you to a head turner in an exceedingly large crowd. Its involved description work makes it far more difficult to form a final hit. There could also be color variation because of resolution of actual image.
You may also be interested in
Look for Similar Items by Category